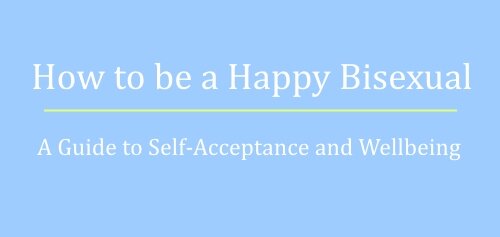 "What a wonderful and healing book." – Amazon Review

"It offers suggestions on bi specific issues (coming out, the doubt, repression, etc) that many books don't address. Wish this book was out when I was looking for bisexuality specific books as a teen." – Goodreads Review

"This book was very helpful to me…the book gives practical advice on how to come out, and it does a good job helping the reader first come to a state of inner confidence in their bisexuality." – Amazon Review

"This has really helped me. Insightful, well-researched and comforting…I would really recommend this if you or someone you know is struggling to come to terms with being bi." – Amazon Review
I believe that it's your birthright to feel comfortable with your bisexuality, and to express it as you wish.
This book is about the practical steps you can take to build the confidence and self-esteem that lead to self-acceptance and a sense of wellbeing.
The book includes chapters on:
Understanding bisexuality
-What is bisexuality?
-How do I know if I'm bisexual?
-How many people are bisexual?
-Myths, stereotypes and unhelpful messages
Exploring and engaging with the experience of other bisexual people
-Using bisexual blogs, vlogs and forums
-Meeting bisexual people
The importance of assertively identifying as bisexual
Coming out as bisexual
-How to come out to the important people in your life
-Example coming out texts (including effective words and phrases to use)
-Special considerations for coming out to particular people
-Coming out to your partner
-Coming out to parents and close family
-Coming out to close friends
-Coming out to work colleagues
Looking after yourself – optimising your mental wellbeing
-Overcoming negative thinking about whether you are bisexual or not


-Overcoming repression of unwanted sexual desire